FREE

Piwik Pro Implementation Worksheet
This worksheet makes it possible and easy to plan, document, and manage your Piwik Pro implementation without skipping any part of the instrumentation process or having a disconnect between your analyst and your implementation team. In addition, you can adopt this worksheet as an internal SOP for your future setups.
Piwik Pro Implementation Made Easy With This Worksheets
Planning and strategy are essential ingredients for successful analytics implementation, and this is one of the values of having an SOP and a workspace to document your ideas + configuration settings.
This Piwik Pro worksheet makes it easy to have well-documented and successful instrumentation where your analyst and data visualisation specialist can easily understand what data you're collecting and how it's collected without throwing punches with your analytics instrumentation team.
Utilising the worksheet will ensure you complete all parts of the Piwik Pro setup. Still, it will make it super easy to build out your implementation documentation that will be accessible to your team members.
The worksheet allows managing and updating your setup after your Piwik Pro implementation.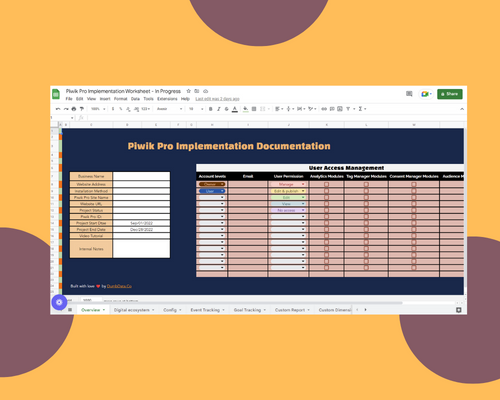 Video on how to use the Worksheet
You can access this Worksheet for free

we make you smarter with data